Locket Picture Printing - Make Locket Size Photos from your Pictures
Need a small size picture to fit in a locket? Our locket print will take your photo and create 25+ different sizes of it on a 5x7 print. You can zoom in and rotate as needed. Cropping previews for Heart, Circle, Oval, Rectangle and Square locket shapes.
Locket Prints are $8.95.
Please note that you don't need to tell us what size locket you have - the size does not matter. The print we make should have enough different sizes so that any size and shape of locket should work (for normal sized lockets - if your locket is larger than 1½ inches let us know).
What is a Locket Print?
Our locket print takes your picture and lays it out on a 5"x7" print with 25+ different versions of your photo all as different sizes. One or more of these pictures should fit any normal size locket up to 1½ inches across. If your locket is larger than that let us know and we can make the print larger.
Our ordering system will allow you to choose what shape your locket is and you can then see a preview of how your photo would look as that shape. Keep in mind the shape overlay we use probably will not match your locket exactly but it will give a good approximation of how it will fit.
If you order a Heart, Circle, or Oval shaped locket print we will send you 2 prints, one with the overlay and one without, just in case the overlay does not work quite right.
Shipping Options for Locket Prints
Shipping options are:
Standard - USPS First Class, 3-7 days normally
Priority - USPS Priority, 1-4 days normally
Express - UPS Next Day, 1 day, not including weekends
Email - we will email you the same file we would print, please allow us 1 business day to send it
Lab Pickup - please allow us 1 business day to print it
Can you Email the Locket Print?
Yes! When you checkout email is a shipping option. We will email you the same file we would print, it should be printed as a 5"x7". If you order a Heart, Circle or Oval shape we will send you 2 emails, one with the overlay and one without.
Please note that the email is not automatic, we manually layout the file so it may take 24 hours (or longer on weekends) to receive the email.
Examples of Heart, Circle and Oval Shape Locket Photos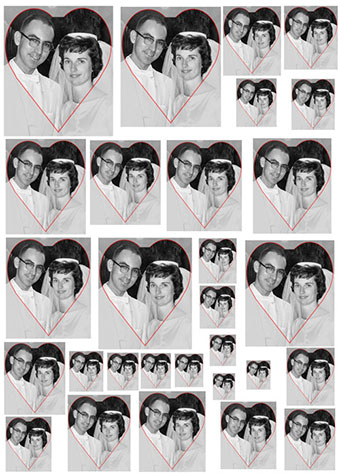 Locket Photo for a Heart shaped locket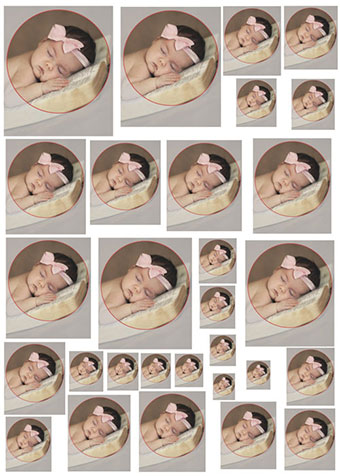 Locket Photo for a Circle shaped locket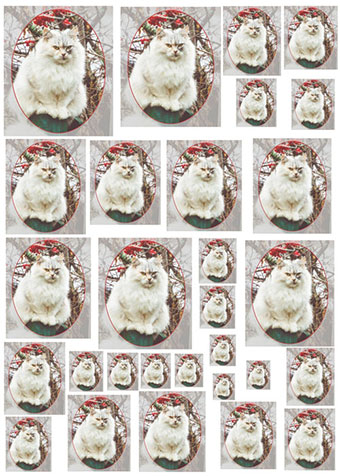 Locket Photo for an Oval shaped locket
What Makes a Good Picture for a Locket Photo?
Lockets can be hard to get good photos for. If it is heart shaped, usually a picture with two people works best - where their heads are not too close together, this way the part of the heart that comes down in the middle sort of fits between the heads. If the locket is an oval, then a single head works well. If you need to put a picture of a single head in a heart shaped locket it will likely cover some of their head on the top.
Ideally for any locket you will want a picture that has room all around - this gives the most flexibility.
Groups of more than 3 people are usually bad, as their heads will be too small to see who they are, though we do see quite a few group photos.
★
★
★
★
★
It was an easy experience. Awesome photos and fit the locket well! Will be back for more prints!
Sheila - Dec 8, 2023
★
★
★
★
★
I desperately needed locket sized pictures and no photo lab in my area did prints that small. Your company gave me exactly what I needed, with many different size options. You literally saved Christmas! Thank you!
Steven - Nov 29, 2023
★
★
★
★
★
I was looking for a specific locket shape and size. The website was easy to navigate, the system simple to order, and I loved that I could see the shape of the photo since it was different from square prior to ordering. Fast shipping, and with the va...
Anonymous - Nov 11, 2023